Considering your storage needs at the design stage is crucial to having an organised kitchen. It is so important to consider how much storage you will need. Many factors can influence the type of storage you need, such as your family size, whether you are a bulk buyer or a buy as you go consumer, types of foods you eat and what kind of lifestyle you lead.
No matter your storage needs, there are lots of accessories to add to your cabinets to help keep your kitchen organized. We only use quality accessories in our kitchens and all our drawers and cupboards are soft close.
An organized kitchen where everything 'has its place' greatly adds to the enjoyment of your kitchen. See below handy accessories to consider for your next kitchen renovation.
Bin options
The kitchen bin is an item that gets little thought when creating or upgrading the kitchen, yet it is one of the most used items of your kitchen. Disguise those unsightly bins by tucking them away in your cupboard. Pull-out bin drawers are a clean, hygienic no fuss method for storage of your kitchen waste. It will save your valuable floor space as well as allowing you to keep your rubbish organised. With our twin pull-out bin systems, you can use one side for waste and one side for recyclable items, making this also a green choice as dividing up your waste will encourage your recycling efforts.
Pull out caddy options
Pull-out caddys are a great way to store pantry items that are frequently used. An ideal location in the kitchen is either side of your oven. A practical spot for oils and sauces. You will have clear visibility of what is in your drawer. Add an additional inner drawer to the cupboard for a handy place for cling wrap, baking paper and food bags.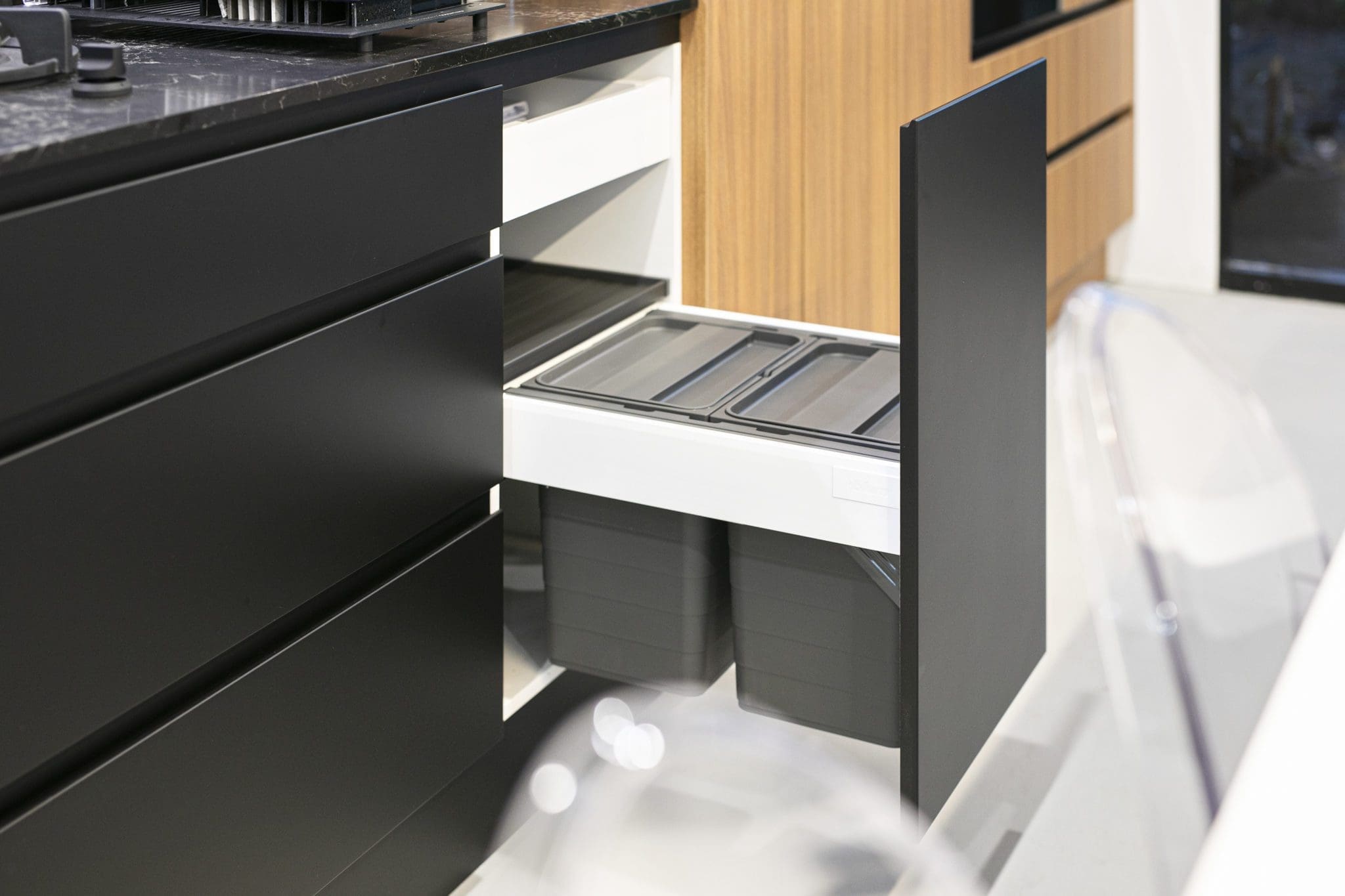 Spice racks
The group of kitchen necessities that always seems to be the trickiest to keep organised is your spices. Mostly they are in the pantry and not within easy reach or sprawled out across your kitchen counters leaving your benchtops cluttered. Spice drawer inserts are a great way to have your spices not only in a practical position but also organised and easy to find. The Blum spice holder can be lifted out of your drawer and onto your bench when in use. It is also dishwasher safe and has handy carry handles for transporting your spices to your bench.
Cutlery & Utensil Trays
Keeping your cutlery and utensils organised and within easy reach is an important part of kitchen organisation. Both the position of these drawers within the layout of your kitchen and the use of trays and dividers is important to have your kitchen at its organised best. Am I wrong to say that most of us have or have had a drawer stuck with a wedged potato masher?! The first step is to cull, its amazing what we accumulate over time. Make sure you have left behind what you actually use. The second step is to deck these drawers out with trays. Orga-line utensil dividers by BLUM that insert into our BLUM antaro drawers will make organisation satisfying. Utensil dividers can be arranged flexibly in various combinations so you can design an organised drawer to have everything you need clutter free.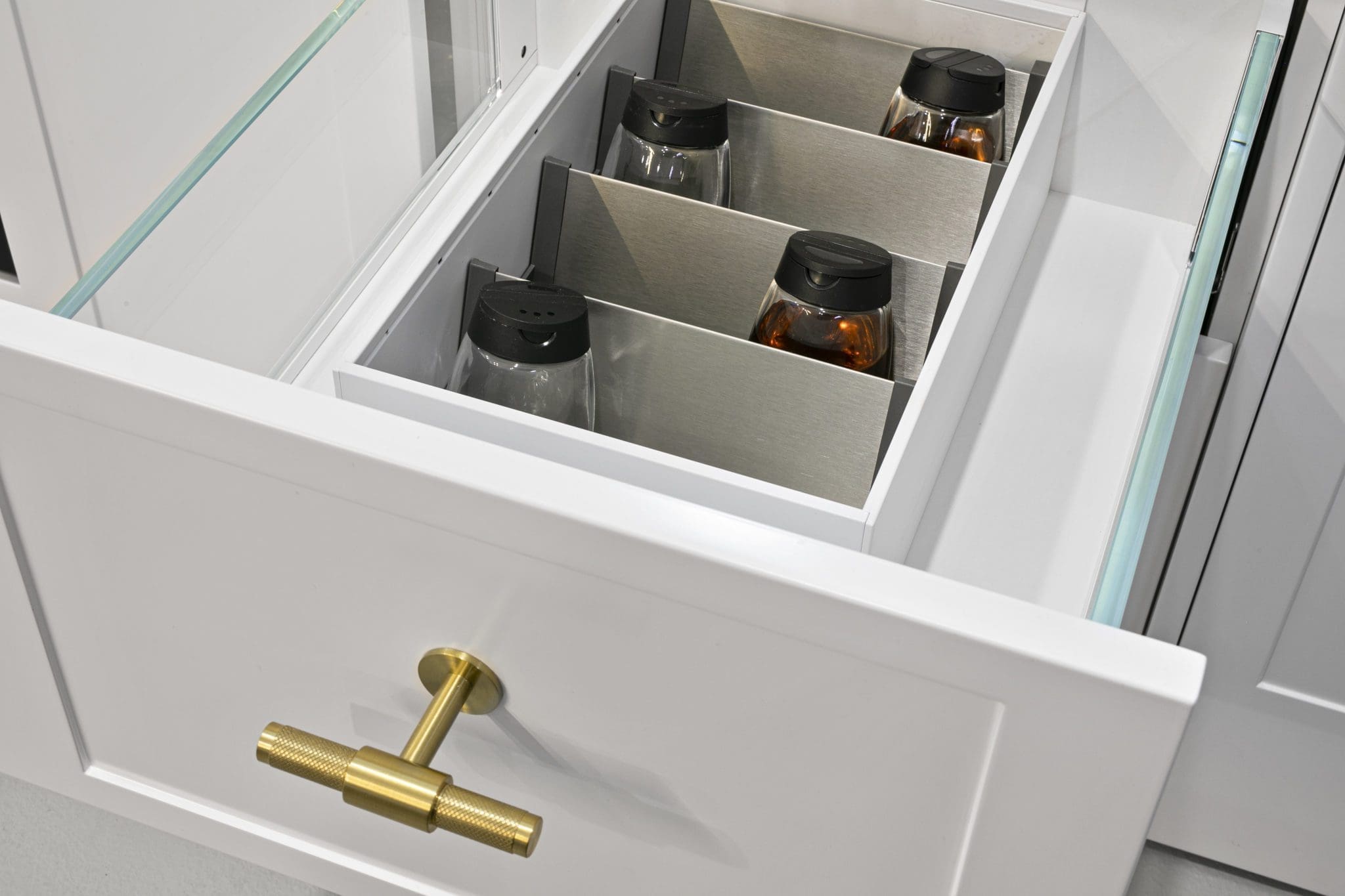 Drawer Dispensers & Knife holders
Keep those benches clear and instead of having a knife block on your bench, how about in your drawer instead. The blum knife holder holds up to 9 knifes and is a safe way and practical way to store them. Other dispensers such as a foil and film dispenser that have inbuilt cutters and tangle free dispensing are also a practical & attractive way to store these frequently used items in your drawer.
Drawer organisation
Say goodbye to messy drawers with by adding in adjustable dividers for your drawers to be able to house items in your drawers neatly and in an organised way. Many people store there plates in a drawer for easy access, which is a great solution, however it's not without clattering as you open and close the drawers as they move around in the drawer. The BLUM plate holder allows up to 12 plates to be securely stacked in pull-out drawers. These can be lifted out and carried to the dining table making it not only great for organisation but also a practical and safe way to carry stacked plates.
Corner cupboard solutions
Corner cupboards are renowned for being difficult to access. Adding a LeMans corner tray allows easy access to items as it swings smoothly and effortlessly out of the corner cupboard so you have a clear view and easy access to all items. A LeMans makes perfect use of corner spaces, giving you optimal access and avoiding wasted space in your cabinet.
We hope we have inspired you with some ideas for accessorising your kitchen. We have lots of clever accessories & design ideas we can incorporate into your design. We would love to help you, so reach out for a friendly no obligation chat about how we can incorporate these ideas into your kitchen. For more information on the quality products we use visit blum.com.au or hafele.com.au