projects
Belimbla Project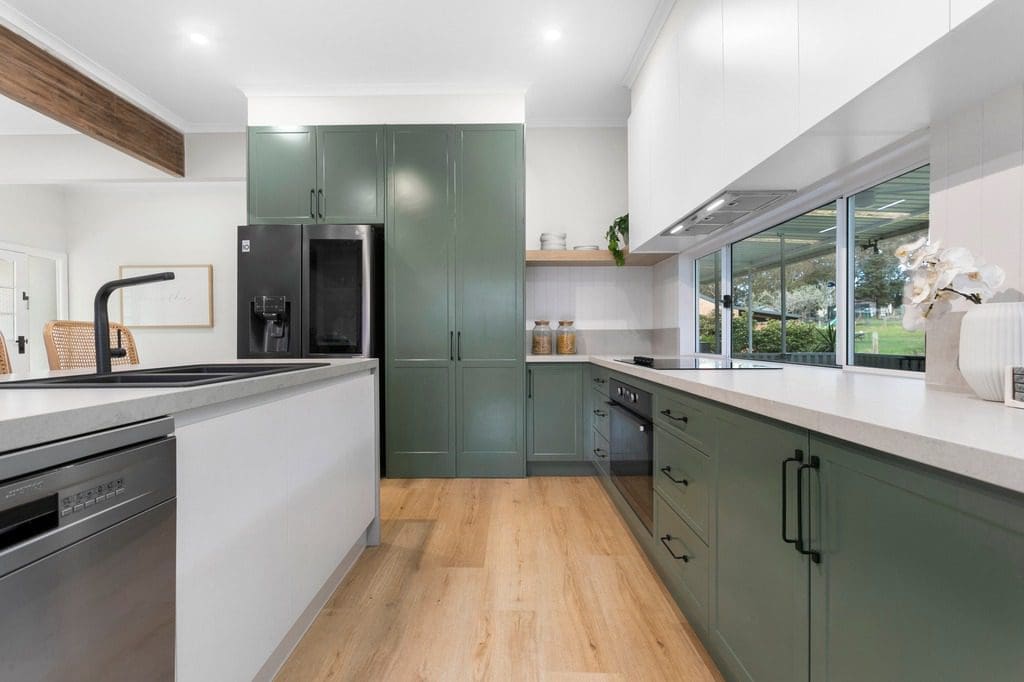 Set in the rural suburb of Belimbla Park in the wollondilly shire, we transformed this kitchen into a light filled natural Hamptons style kitchen. The use of colour in a kitchen can be a bold choice, but its also a way to inject personality & set the mood of the Hamptons style kitchen when cleverly used. The well thought out colour palette has been executed to bring a balanced earthy vibe to the space.
The base and tall cabinets feature Polytec Hampton Profile Doors in Dulux Colour Spiralina. The wall and island cabinets are Polytec Thermolaminate, Guilford Profile Doors in colour Ultra White. The luxurious 40mm Benchtop and waterfall ends to the island are in colour Pelle Grigio by Smartstone. The subtle inclusion of the Natural Oak Shelf in a Ravine Finish by Polytec, further enhances the warm earthy vibe and complements the flooring choice.
The subtle use of Hepburn matt black handles, sink & tap & appliances, gives the Hamptons style kitchen a modern edge. The neutral styling of the kitchen with earthy tones and textured whites works in harmony to compliment the tones of the Belimbla Park kitchen.
Cleverly hidden behind matching Hamptons kitchen doors is the entrance to a walk-in pantry. To inject a feeling of space, all cabinetry is in Polytec Polar White, featuring a built-in microwave cabinet and ample storage. The pantry also has a generous benchtop area for additional cooking preparation and appliances to keep the main kitchen uncluttered.
The final result of this beautiful Hamptons style kitchen & pantry in Belimbla Park, definitely leaves you green with envy!
We also completed a hallway entrance, laundry & bathroom, joinery carrying through the design white tones, bringing in a natural element with the use of woodgrain and the edgy use of black for the homes joinery to flow in harmony.
ONSITE MEASURE & PLANNING
Our designer will visit your home or meet within our showroom for a complimentary, personalised consultation. Here, they will be able to discover your wants and needs to create the most functional space.
CUSTOM DESIGN
At Built to Desire we have a passion for interior design. With a wealth of knowledge behind her in the building and interior design industry, our business owner Angela will be more than happy to assist in perfecting your space using our extensive colour and product range on offer.
QUALITY MANUFACTURING
Using only the highest quality products and hardware on the market we pride ourselves in knowing we are offering you the most superior product.  Our joinery is manufactured locally with world renowned brands providing you with a 7 year warranty.
TRADE CO-ORDINATION
From your initial consultation all the way through to installation, we offer a personalised service including the option of trade coordination. Whether you choose to use your own trades or companies we have worked with for several years we will ensure that everyone knows when their services are required.