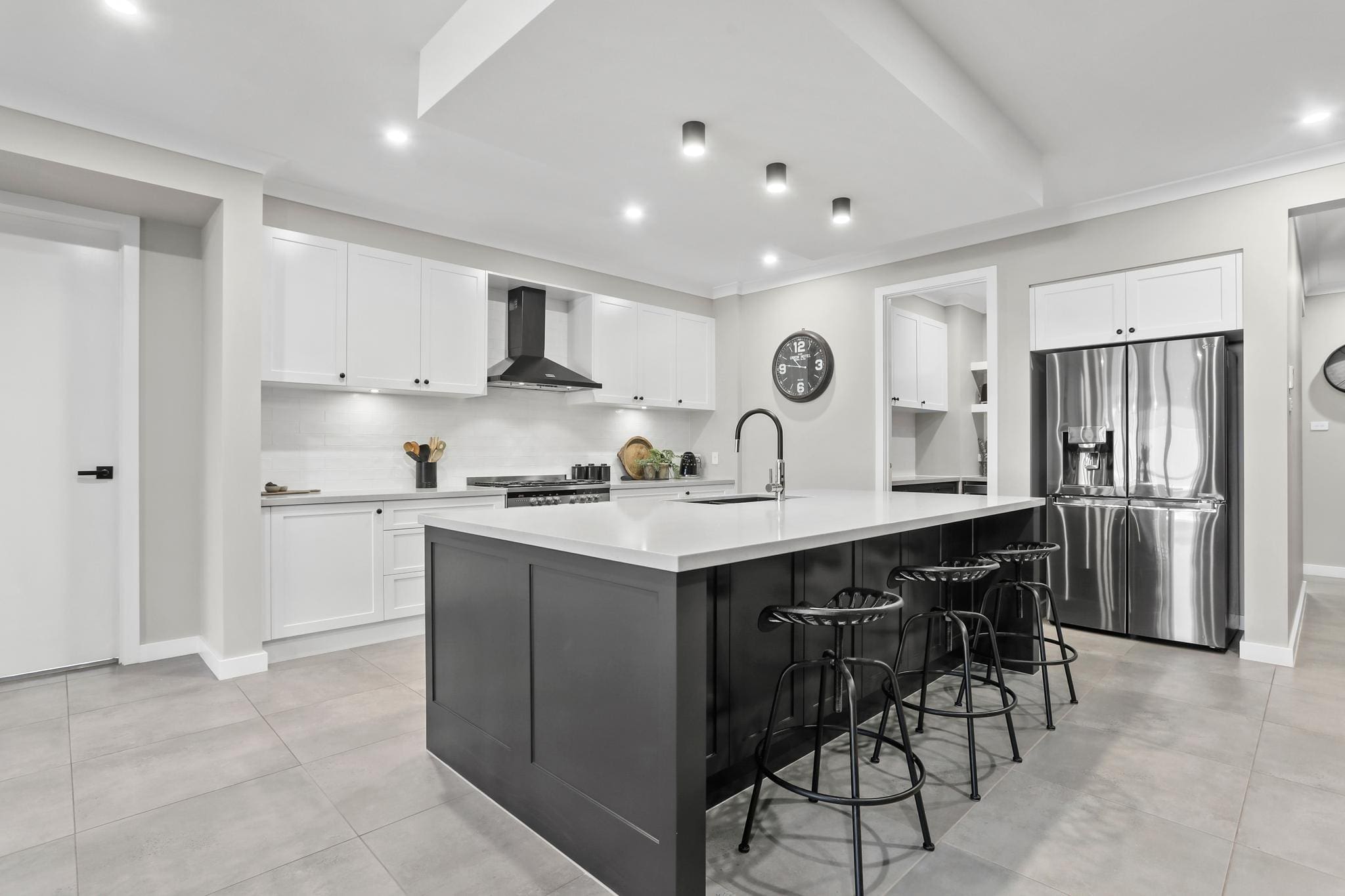 Whilst the floorplan of your home will most likely determine the layout that your kitchen will have. You can always optimise the space you have to work with to get the most out of the space available. Getting the layout right is the most important factor in ensuring a practical & functional kitchen area. Consideration needs to be made to ensure there is enough space for comfortable movement around your kitchen, placement of appliances for ease of use & storage solutions are all going to factor in your enjoyment of your kitchen.
Most designs centre around the principal of the kitchen work triangle. The triangle is a basic but time honoured principle for designing ergonomic, functional kitchens. In an ideal kitchen you should be able to draw a triangle between three work centres;
1)      The kitchen sink
2)      The fridge
3)      The cooktop
When you work in a kitchen, it's likely that you're going to have to do several different things to get a meal together – cleaning, preparing food and cooking among the most obvious and common.
The idea behind the kitchen work triangle is to clearly mark out distinct spaces for each of these fundamental tasks, and to plan an ergonomic work area to reduce the distance and effort required to work effectively in the kitchen.
Below are 6 of the most commonly found kitchen layouts with tips to help you achieve the most out of your design.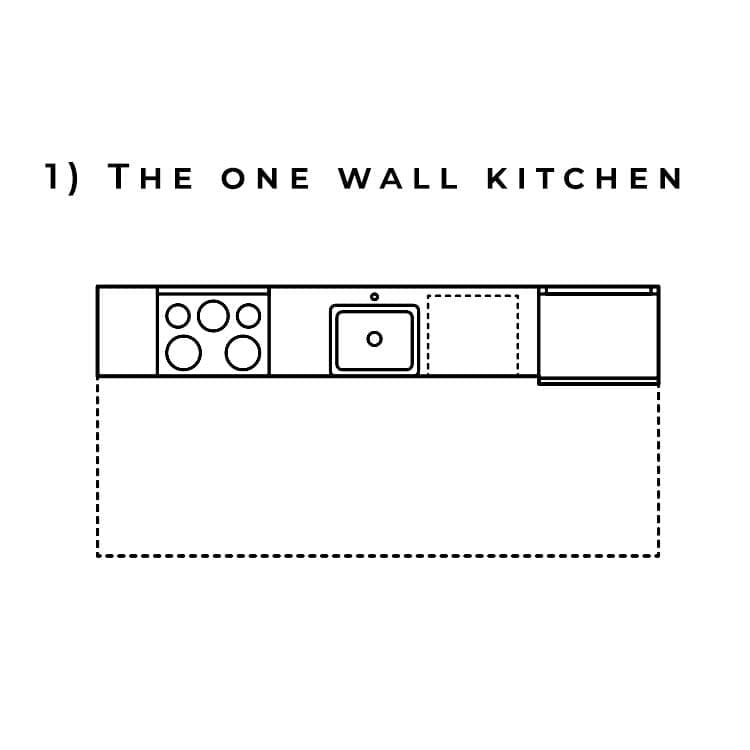 Generally found in smaller homes, consisting of cabinets installed against a single wall. This simple layout is space efficient without giving up on functionality. A one wall kitchen is comprised of base and top cabinets or shelving over base cabinets for a clean aesthetic look.
Tips for a one wall kitchen
As the traditional work triangle is not possible in a one wall kitchen. You only have so much width to work with so think vertical. Taking your cabinets up the wall as far as possible will help create extra storage space. Placing your fridge on one end and your oven and hob in the middle and sink to the other end with bench space in between each work zone will help with the flow of the kitchen.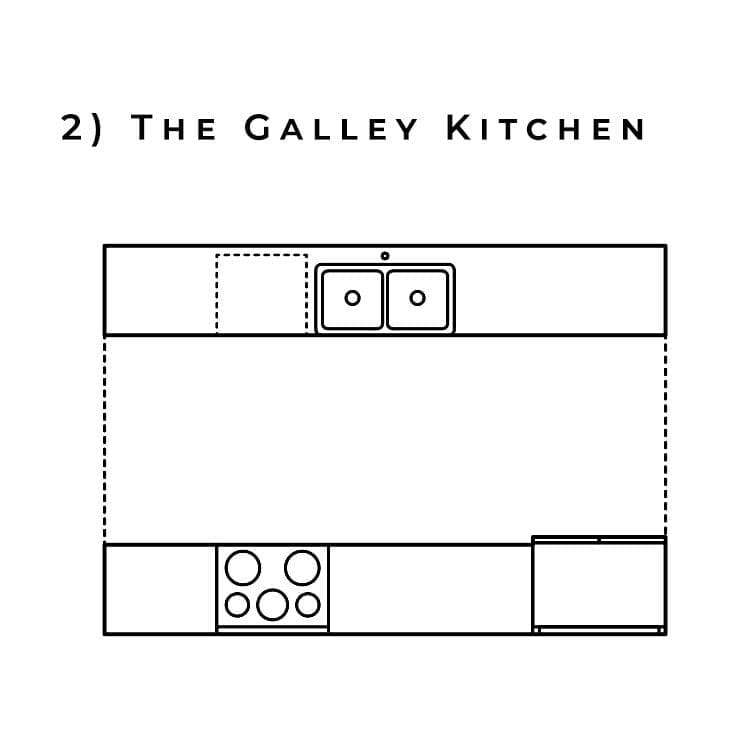 A galley kitchen consists of two rows of cabinets facing each other, creating and inner passage or walkway between them. By eliminating the need for corner cupboards, this layout uses every millimeter of space without wastage.
Tips for a Galley Kitchen
With an additional row of cabinetry, the galley kitchen already offers more flexibility when it comes to storage space. It is important to have the work areas along only one of the walls, not both. This will help you to avoid traffic through the work triangle. Think white & bright to create a light and airy feel to make the space feel larger than it is.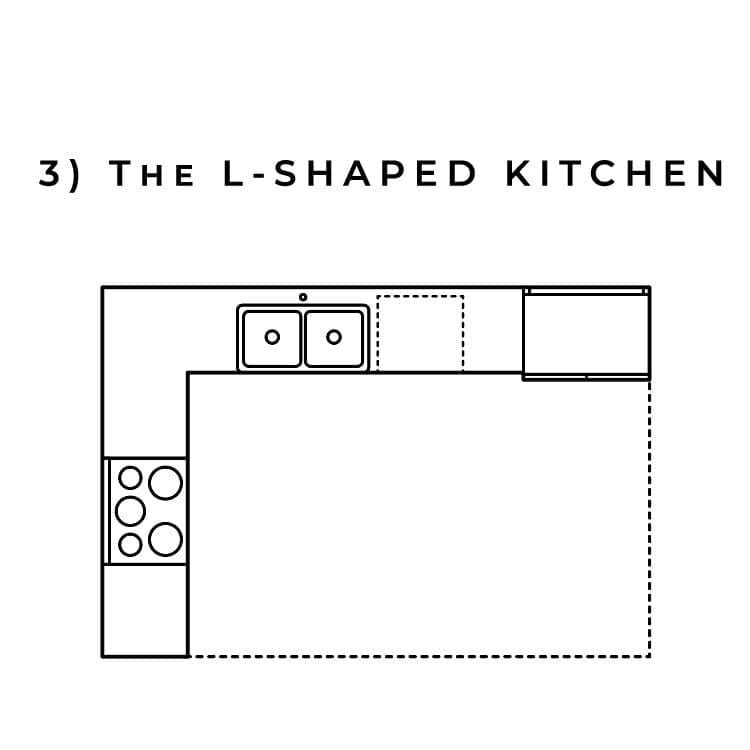 L-shaped kitchens are a practical layout option for small and large kitchens. It has cabinets along two perpendicular walls. Although the corner necessitates some clever cabinetry solutions to make it practical, the open plan design of the L-shaped kitchen offers great flexibility in the placement of appliances and work zones.
Tips for an L-Shaped kitchen
Where space allows, make the most of the corner by installing a walk-in pantry cupboard. This way you won't lose the valuable space that is usually lost in a corner, and you gain a huge asset to your kitchen. With an L-shaped kitchen, you may even be able to create a small breakfast nook in the opposite corner, further increasing your family's enjoyment of the room.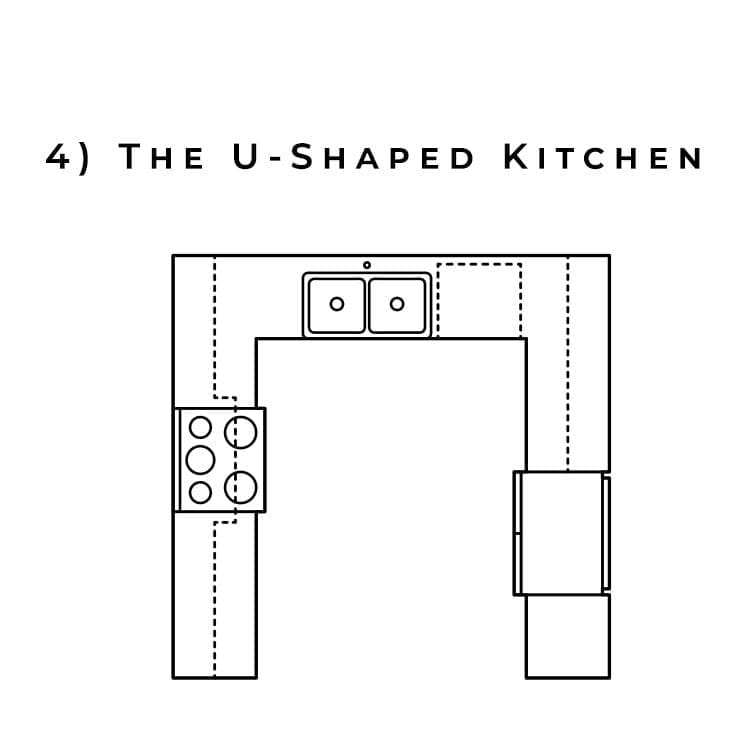 U-shaped kitchens consists of cabinetry along three adjacent walls. This type of layout provides plenty of storage but can feel enclosed if there are top cabinets on all three walls. To avoid this, choose top cabinets along only one or two walls, with open shelving or focal tiles to reduce the enclosed feeling. The U-shaped kitchen allows for great workflow and multiple users at the same time.
Tips for a U-Shaped kitchen
Keep window areas open and uncluttered in a U-shaped kitchen. This type of kitchen layout provides the perfect opportunity for an uninterrupted work triangle. U-shaped kitchen designs also generally have more bench space. Incorporating a kitchen island to one side also keeps cooking social.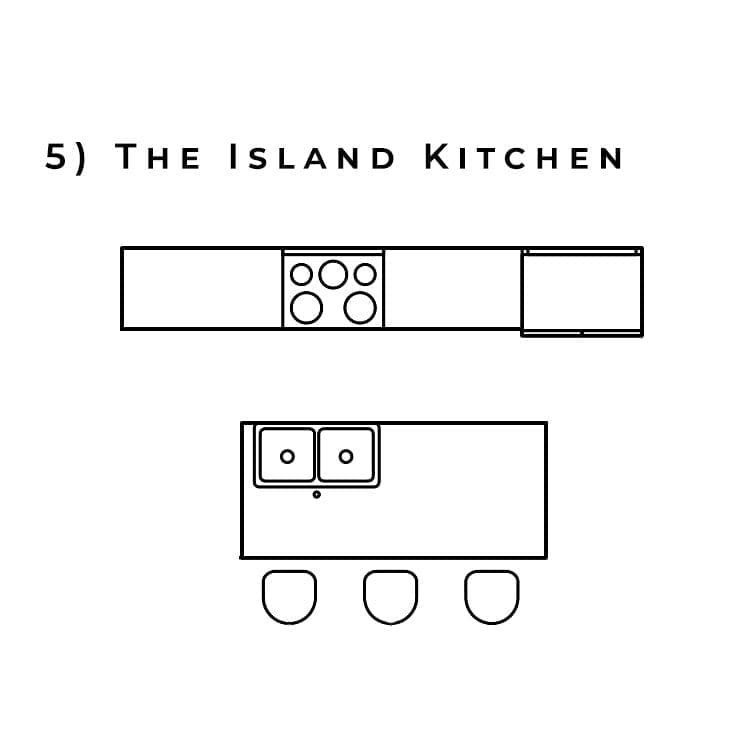 A very popular choice in open plan homes, the island kitchen provides a large work surface or storage area in the middle of the kitchen. The island can incorporate a cooking surface, prep bowl and bar or wine fridge. It can also be used simply as a preparation area or for enjoying family meals. While the kitchen has to be big enough to incorporate an island, its placement is a great way to create a natural traffic flow in the area.
Tips for an island kitchen
Utilise the island as both a work and social area where family and friends can interact while meals are being prepared. Because of its location in the centre of the kitchen, it is a great place to install prominent decorative lighting that can also serve as task lighting.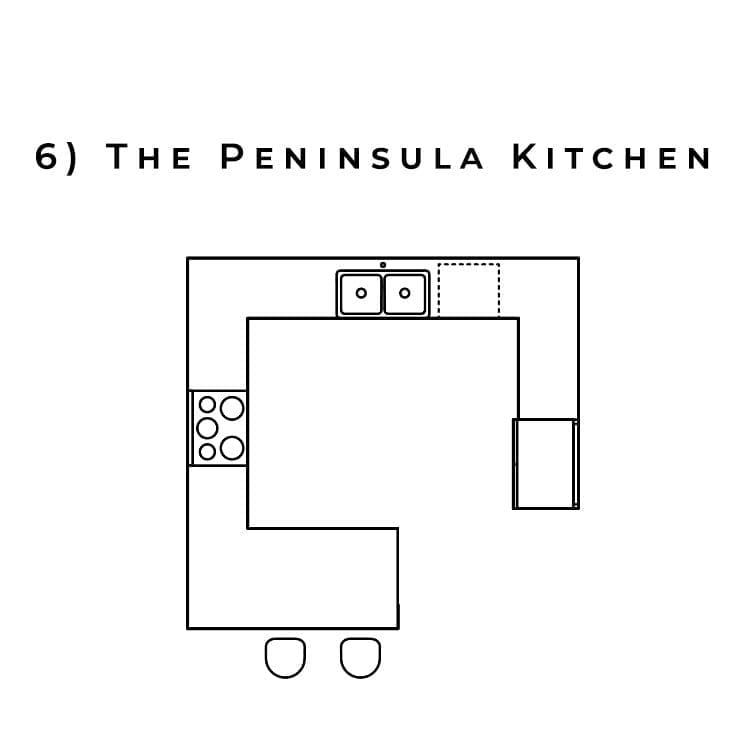 The peninsula is related to the island kitchen and incorporates a kitchen counter that juts out from a wall or cabinetry. This is a great solution that offers the benefits of a kitchen island where space doesn't allow for an independent island to be installed. The peninsula can be used for food preparation, eating or other tasks while the cook is busy with meal preparation.
Tips for a Peninsula Kitchen
As with the island kitchen, the peninsula offers a great opportunity for interaction during meal preparation. It is a great solution for a small enclosed kitchen, where a wall can be removed to open the area up to an adjacent room without giving up on storage space.
Talk to our team at Built to Desire for your next kitchen project for professional layout advice to make the most of your kitchen space. We offer a no obligation free consultation service and meet you in your home to provide advice on the best layout to get the most out of your space to meet your families needs. Click on our chat feature to speak to one of our designers or click on contact us. We are passionate about what we do and would love to help you design your dream kitchen space.